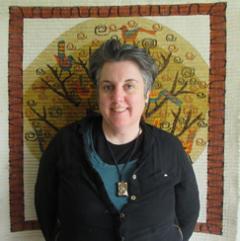 Catherine Small
Parish Council
I was born and raised here on the island until I climbed on a Greyhound bus, headed east one spring day in 1988, vowing never to come back. I disembarked in Montréal, and ended up living there for 22 years.
I was baptized as a Lutheran, and did the Sunday School thing. In my teens I made a conscious decision to turn my back on all that and get on with a real life. It wasn't until I got to Montréal and began to question the bigger issues that I decided to give God another go. I ended up at an Anglican church.
My friend's death due to HIV in 1992 set the course of my life for the next decade, propelling me to volunteer for AIDS organizations while supporting myself with many different jobs, until I went back to school and received a bachelor's degree in Social Work. That opened the door for working as a social service agent in a remote Inuit village on Hudson Bay.
Now I am a single parent, and I am back on the island. It's been a humbling return. I work at a thrift store. My house is always messy and I never seem to have enough time to read. However, I am blessed because I have a job and stable housing and my hours allow me to have some balance. My daughter and I walked into St John's a little over a year ago and it has become a sanctuary. I am excited about being on council and hope to give something back to the community that has become such an important aspect of our lives.
Elected March 5, 2017
---
Contact Catherine through the office. See the office contact details below.