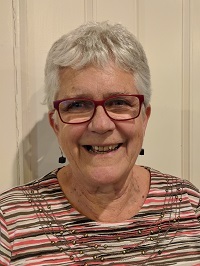 Joan and her husband Bill moved to Victoria from Ontario in 2003 to be near her parents.
A life-long Anglican, in Ontario she was an active member of the cathedral in Sault Ste. Marie for 12 years and St. Georges in Goderich for 17. During that time professionally she was a volunteer consumer advocate at the provincial and national level and served on many boards and committees as a consumer representative, first with the Consumer's Association of Canada and later with the Consumers Council of Canada. She is still active with the Canadian Standards Association.
Having chosen St. John's when they moved/retired to Victoria, right away Bill became active in the St. John's Court Society, where he still chairs the Board and Joan was content to take a less active roll. After a few years Joan joined the Greeters group and the Hospitality group providing receptions after funerals and other occasions as well as the Bazaar and New-to-You groups.
She brings her policy and organizational skills to contribute to the work of the church and the Parish Council.
Elected February 25, 2018 for a one-year term.