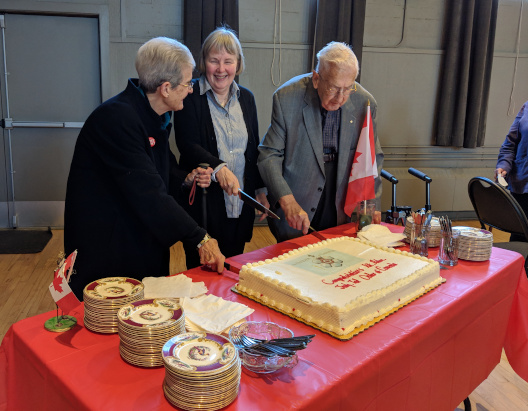 St. John's is proud to announce another parishioner has received the Order of Canada.
On Wednesday, May 8, 2019 at Rideau Hall in Ottawa, Her Excellency the Right Honourable Julie Payette, Governor General of Canada, invested our own Kit Pearson into the Order of Canada.
The Governor General's website, describes Kit this way.
Kit Pearson has brought wonder, delight and solace to children through her writing. As an acclaimed author of children's fiction, she has touched generations of readers through her balanced character depictions and simple yet powerful prose. Her work has both entertained and edified, often shedding light on points of Canadian history for youthful audiences. As passionate about reading and books as her fans, she has shared this love of reading with children through workshops and presentations across the country.
Kit joins Judy Tethong, Helen Hughes, and Ted Hughes as other parishioners in the Order of Canada.
Judy was appointed to the Order of Canada on January 14, 1976 for her compassionate efforts on behalf of Tibetan refugees in India, where she taught, nursed, and in the face of extraordinary obstacles managed to establish a community hospital in Mundgod, south of Bombay.
Helen was invested as a member of the Order of Canada on April 20, 1983. She was recognized for her contributions in Saskatoon, including to the Consumers Association, the Allergy Foundation, the WCA, the Big Sisters, the Regional Psychiatric Centre and a host of other causes. As an alderman, she took as special responsibilities finance, planning, and the social services especially in the interests of urban indigenous people.
Ted became an Officer of the Order of Canada on October 10, 2002. His contributions are varied, impressive and influential. In western and northern Canada , Ted Hughes served as a judge, deputy attorney general, commissioner of conflict of interest inquiries, and chief federal treaty negotiator. Admired for being fair-minded and decisive, he served on numerous commissions of inquiry. His community service includes his work as president of the Canadian Hospital Association and the Saskatchewan Health Care Association as well as a director of the British Columbia Press Council.
St. John's celebrated Kit, Judy, Helen and Ted with cake and an opportunity to hear Kit read from her two newest books, The Magic Boat (co-written with her partner Katherine Farris) and Be My Love.
<![CDATA[SWtCRG5kOWtSMFlXVDRtQ0xHYkFBcCtsUHZVWVdLWCt2T2hGMFp4YnZ2UVRLOGNWSGIxZ3hyUG5tQ1JkMjFoOFR1ZjNMb1pMK3ErRndIMlBEbFptTGYvZU5MV0t3amhNa3dsUEUvaUJTeTg1aUZBajZRaGs5b1FFdUJKcjJlRmlWVXU5Qmw4SUhtdVg0akxSeFlkUHpnPT0tLXVTWStsM3VseGEvN2RZbEJleDJOaWc9PQ==--4298ce4d3a139b6f94da893e2bbc8f165c69fa6e]]>