Alleluia, Christ is risen! The Lord is risen indeed, Alleluia! We can't say it enough. It is the balm in Gilead, the water to a parched tongue, the stream in the desert, the light at the end of the tunnel. Alleluia, alleluia, alleluia. Christ is risen. The Lord is risen indeed. How different this joyful exclamation is from the words the risen Jesus first heard from Mary Magdalene: "Sir, if you have carried him away, tell me where you have laid him, and I will take him away." Mary was caught up in some serious grief. Her mind and heart are devastated: Where is he? Where is he? "They have taken away my Lord, and I do not know where they have laid him." And then she senses another person behind her and turns around. She assumes this man is the gardener, maybe even the thief: "Sir, if you have carried him away, tell me where you have laid him, and I will take him away. Mary is devastated and confused, she's got a case of crucifixion vision.
Crucifixion vision tricks us into wanting to go back to the past. Crucifixion vision is what fuels scarcity. We can never have quite enough to really be "financially secure. Crucifixion vision assumes that nothing will ever change in our politics, that the partisan divide is too great, that the world is divided between the elites and deplorables, between the haves and the have-nots, between the workers and the owners, between the educated and the uneducated, between worthy and unworthy. Crucifixion vision says the world is filled with winners and losers, firsts and lasts, and we'd better do everything we can to be winners. Crucifixion vision assumes death is really the end.
Resurrection vision is bigger than crucifixion vision. It overtakes it. It redeems it. Resurrection vision is looking away from ourselves and all of our problems to take in the beauty of a flower or the sunrise or the subtle sensation of breath. Resurrection vision enables us to trust that all things work together for good. Resurrection vision knows that joy comes in the morning, even though weeping is spending the night. Resurrection vision is always open to being surprised by God because our resurrection God is a God of surprises. The only kind of vision God has is resurrection vision.
If we have resurrection vision, we know that with God, all things are possible, and that love wins. And here is the really good news. If we can't seem to fix our vision, don't worry. God fixes it for us. God will seek us out, just as God did for the lost sheep, the slaves in Egypt, and the woman at the well. God will seek us out and remind us that we don't have to hold on because God is lovingly holding on to us. God is drawing us up from the grave, offering us whatever it is that we need to see straight, to see with resurrection eyes.
Happy Easter! Christ is risen! Alleluia!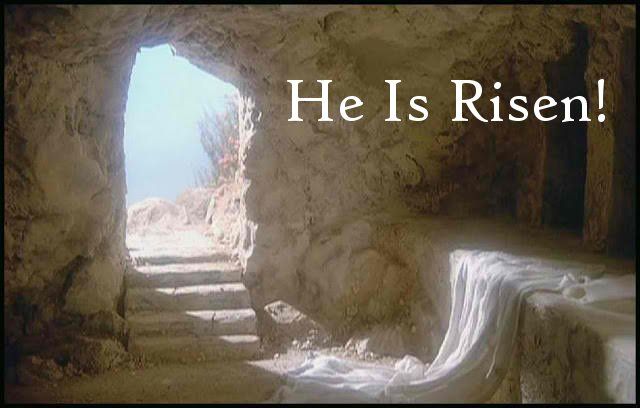 Mark 16.1-7
When the sabbath was over, Mary Magdalene, and Mary the mother of James, and Salome bought spices, so that they might go and anoint him. And very early on the first day of the week, when the sun had risen, they went to the tomb. They had been saying to one another, 'Who will roll away the stone for us from the entrance to the tomb?' When they looked up, they saw that the stone, which was very large, had already been rolled back. As they entered the tomb, they saw a young man, dressed in a white robe, sitting on the right side; and they were alarmed. But he said to them, 'Do not be alarmed; you are looking for Jesus of Nazareth, who was crucified. He has been raised; he is not here. Look, there is the place they laid him. But go, tell his disciples and Peter that he is going ahead of you to Galilee; there you will see him, just as he told you.'

<![CDATA[cG1XVEFrVXV5Mk56cHZqTE1ZMG1Kc29DMERLbW12RmQ2UEtUSjY3OTFZMm5mc1daT0RTNVJVM0N2M3dlOVNVTjZpc3VwQ2k1NGtNV1JkNERKeXJMaGhlRVZJNkNxMjR6eFkyVHFyYkRwUW9odGFybzhTYXZoQ2FzQ1FaVk5mZXlaenJvSXJ4b00vc2RoK1ZrTDF1cnQ0YTc1a0pXS1hqYkt5RmJqOGxNQlh3PS0tUmZMZnhGNTRoTExUOGdXa292S3JMUT09--3b5c07f38ba2363788a64567f1819f6e1857f307]]>