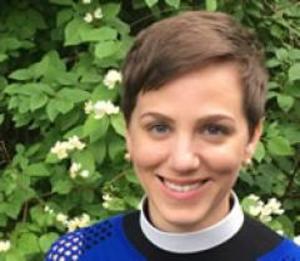 "Connecting people with God, with themselves, and with each other" is how the Rev. Gillian Hoyer has tried to describe where her life experience, interests, and education come together. With over fifteen years of working with children, youth, and families inside and outside of the Church, some of her most meaningful experiences have been witnessing and facilitating those connections.
A native of Ontario, with extended amounts of time living in southern Alberta and northern British Columbia, Gillian first came to Victoria on a sailing trip. Captivated by the city, she moved here in 2004 to attend the University of Victoria in order to complete her BA in psychology. She later went on to earn a Master of Arts in Counselling Psychology at Yorkville University and, most recently, a Master of Divinity at Huron University College. She is a Registered Psychotherapist with the College of Registered Psychotherapists of Ontario.
Interspersed between degrees, Gillian has worked in a variety of settings. She spent two years working for SALTS, the Sail and Life Training Society based in Victoria. The majority of that time was spent as cook for the "Pacific Odyssey" offshore voyage, a Pacific Ocean circumnavigation that took 54 weeks and visited dozens of far-flung islands around the Pacific.
Gillian has also worked for the Victoria Cool Aid Society and the Canadian Mental Health Association, providing counselling to clients dealing with a variety of different kinds of traumas, mental illness, and substance abuse, as well as housing support and advocacy. Working for these two exceptional agencies was both educational and meaningful. In her work, she was both able to contribute to teams of people doing amazing work and learned a lot as she came to understand more about the struggles faced by those who live in poverty or who are further marginalized by society. Because of this history, Gillian is the Bishop's appointee to the Board of Threshold Housing Society, Greater Victoria's youth transitional housing program.
An often vocal advocate for social justice internationally as well as nationally and locally, Gillian is a member of the Board of Directors of the Primate's World Relief and Development Fund (PWRDF), the Anglican Church of Canada's arm for national and international relief and development. Over the years, she has been privileged to visit with partners in Kenya (through the Canadian Food Grains Bank and World Renew), in South Africa, and in El Salvador. Before joining the Board of Directors, she spent four years on the PWRDF Youth Council. Gillian is also representing the Anglican Church of Canada as a Trustee on the Anglican Alliance, the Anglican Communion's forum for issues of relief, development, and advocacy.
Gillian enjoys writing and has an essay included in the 2015 book, There's a Woman in the Pulpit (SkyLight Paths Publishing). She also wrote an educational module discussing the theology and practice of mission for Trailblazing, the Anglican Church of Canada's series on faith formation for ministry.
Gillian and her husband, the Rev. Matthew Brown, the rector of The Two Saints Ministry, were both ordained to the transitional diaconate on May 29, 2016 at Christ Church Cathedral, Victoria and the priesthood on July 22, 2017 at St John the Divine, Victoria.
You can find Gillian on Twitter: @gillrh and her website: Gillian's Island
Email Gillian
Sign up for our Newsletter
Subscribe to receive email updates with the latest news.