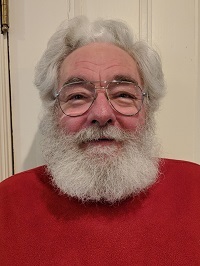 My parents were believers. They believed church was somewhere I should be sent on Sunday to give them some Chris-free time. It did not seem to matter which church.
At age six, I went to the new Church of England parish hall just behind our house, where the service was very similar to our current 10 am. What I remember over two years was the music, the hymns and the liturgy and that absolutely no one spoke to me.
Since my upbringing featured "children should be seen and not heard" this did not seem particularly strange. There was no children's programme. Week after week I would sit on the stage at the back so I could see and then go home. The sermons were way over my head. At age 8 I got sent to join the Wolf Cubs (Cub Scouts in North America), and this involved a change of parish, a monthly church parade, and fun Friday nights featuring beanbag hockey and the murder and mayhem of British Bulldog. On the non-church parade Sundays, I got sent to Sunday School at the Full Gospel Congregational church hall that was built in 1954 about 15 yards from our front gate. This was "happy-clappy" with extra steroids, but the class teaching engaged me and I still have some of the texts that were handed out in class interleaved in the New Testament that Gramps (a Methodist minister) gave me with its Harold Copping illustrations.
Church attendance stopped altogether after I left the Scouts at age 17 and got a job in the local library. I studied librarianship in Birmingham, and one of my house mates played chess. We sat up to the wee hours most nights playing, and debating politics and philosophy. My incoherent religious upbringing did not survive exposure to his fierce agnostic arguments and I found Bertrand Russell's answer resonated with me for twenty years. "What," Russell was asked, "will you say to Peter when you reach the Pearly Gates?" "The evidence for your existence was not strong enough."
My wife Penny Holt changed all that. She came home from St. John's early in 1988 and said, "I want you to understand the spiritual journey I am on. Come to an Inquirer's Class." Penny says my initial reaction was less than enthusiastic: Sunday afternoon was prime chess time, but I went.
The course was led with grace and humour by John Mellis. Anne Henderson was part of the class. For ten weeks we sat in what is now the Denson Lounge and had the same kind of debates I had in 1965 with my student-friend. All the tough questions were canvassed. On the last Sunday the lection was the Gospel where Jesus asks the Disciples "Who do you say that I am?" And you know what my answer was.
We were all confirmed a few weeks later. I had no idea that would be the outcome when I started the course. The last 30 years have been quite amazing to me. They have certainly gone by a lot faster than the previous 42, and they have been full of surprises. I keep being reminded that there is a plan, but we are definitely not in charge of it. My Birmingham student friend died a few years ago. He had changed too. His widow dedicated a memorial brick in his memory in Canterbury Cathedral.
Chris Eve, Rector's Warden
Appointed February 25, 2018
Email: [email protected]

Home: 250-384-8733