Sunday, March 3, 2019 Next Date
7:30 - 8:30 pm
Church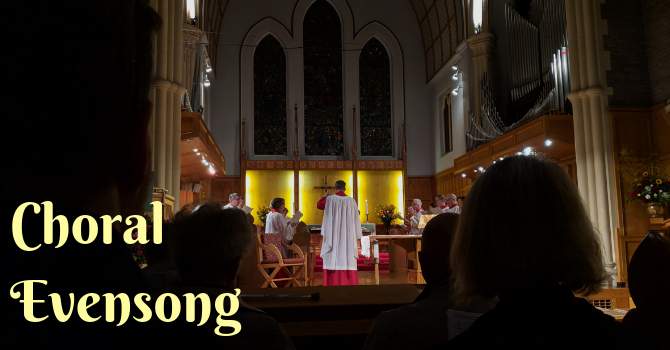 Evensong is a short (40-minute) service of choral music, chant, and prayer, sung by the Choristers on the first Sunday of each month.
As most of the service is sung by the choir on behalf of those present, one can approach this service as feels most comfortable for each person attending. There is little requirement for active participation; one may follow along with the prayer of the service, or merely bask in the music and atmosphere.
A leaflet with the order of service is available near the garden door or near the back in the centre aisle.
EVENSONG SCHEDULE FOR 2018-2019
September 2 - 14th Sunday after Trinity (Sung by the Choral Scholars Quartet)
October 7 - Thanksgiving Sunday
November 4 - All Souls Evensong with commemoration of the Faithful Departed
December 2 - The Advent Procession with choral music, readings, and hymns for Advent Sunday
January 6 - Epiphany Sunday
February 3 - Candlemas
March 3 - Sunday Next before Lent
April 7 - Passiontide choral concert with Victoria Baroque & St John's Chamber Singers
May 5 - 3rd Sunday of Easter